Professional Ecotherapy Training
and Certification Program
Transform your love for nature into powerful,
Earth-honoring practices for individual,
community and planetary healing!
ONLINE TRAINING
Level 1 Module: Available February-October
LAND-BASED IMMERSION TRAINING
Level 2 Module: We'll confirm the dates of our 2022 trainings in December
Santa Cruz Mountains, CA
Blue Ridge Mountains, VA

Level 3 Module: March-July 2022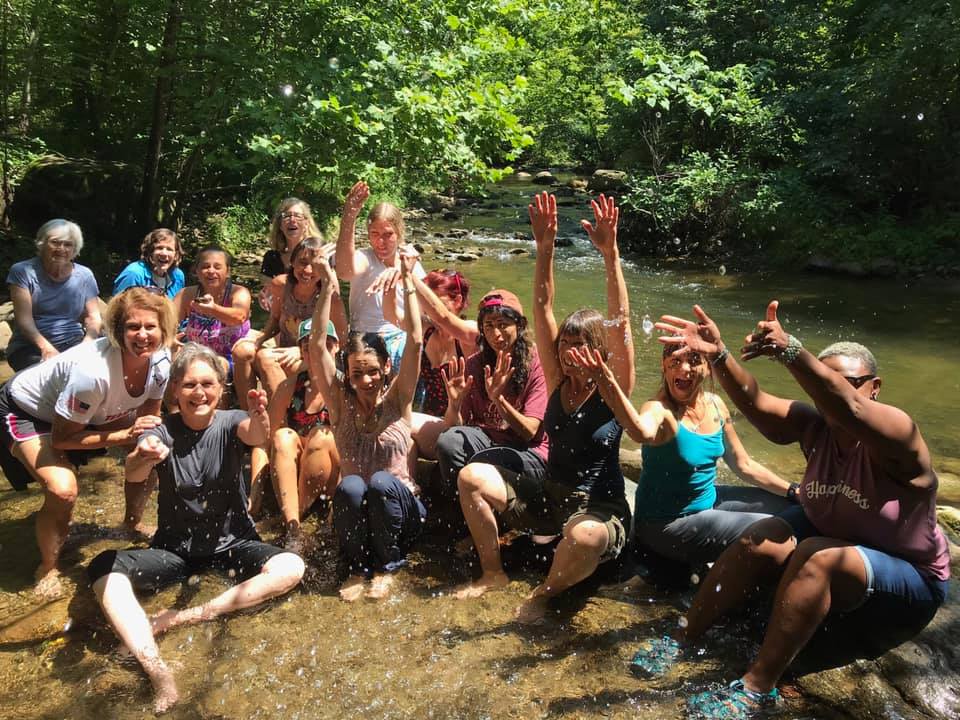 "For years now, Ariana's Ecotherapy programs have been valuable in helping us reconnect with our ecological self for personal and planetary healing. The Earthbody Institute offers a powerful forum for developing the personal and professional skills we need to cultivate an Earth-honoring culture. We need this work to create Earth community as we transition to a life-sustaining paradigm." 
~ Joanna Macy, Author, Coming Back to Life: The Updated Guide to the Work That Reconnects.
Now is the time to include nature-honoring principles in our healing work!
We are living in tumultuous environmental, political and societal times. Our current lives and those of future generations on our planet are becoming less predictable and more frightening. It can be overwhelming and difficult to know how to respond and how to support our clients and communities.
Earth-loving communities and Earth-honoring ways of living are greatly needed
to create a life-sustaining culture,
 

to shift to a perspective affirming the interconnectedness of all life on our Earth and to respond to human and environmental devastation with reparation and healing

.
Ecopsychology and Ecotherapy offer powerful, dynamic perspectives and tools
for addressing these pressing needs. They offer new and yet ancient ways of seeing our relationships with all beings as sacred and interconnected.  They provide a broad range of

ideas and practices

adaptable to many professions for creating individual and communal healing and reciprocal relationships with the natural world

.
Our program offers essential skills and potent practices for anyone who is ready
to integrate Earth-based wisdom and healing directly into their work. Students feel deeply supported and prepared to take their empowered next steps both personally and professionally to bring Ecotherapy into the world

.
We would love to welcome you into our transformational, heartful, courageous community of people devoted to the Earth
, and all living beings.
Ariana Candell, LMFT, R-DMT, Ecotherapist
Develop powerful, practical skills to bring directly into your work and community:
Experience and learn how to lead nature-based interventions for reducing stress, resourcing, regulating and grounding.

Learn effective indoor Ecotherapy interventions and how to transition clients to outdoor settings with confidence and ease.

Integrate the seven steps of outdoor Ecotherapy into individual client sessions.

Understand the clinical, legal and ethical guidelines to assess and prepare yourself and your clients for outdoor Ecotherapy.

Learn the scientific evidence demonstrating the physiological, cognitive, emotional, sociological and spiritual benefits of nature and how to convey this to people.

Gain confidence in

developing and leading successful nature-inspired group programs and create and lead your own unique offering.  

Know how to address growing-edge topics such as: decolonizing Ecopsychology, climate trauma, and working with marginalized populations. 

Understand and practice constructive approaches to addressing cultural, political and environmental crises through activism-inspired Ecotherapy. 

Learn current approaches for dealing with specific client issues: addiction recovery, trauma, and working with multiple diagnoses.

Learn numerous Ecotherapy skills developed from Somatics, Dance/Movement Therapy, Hakomi Mindfulness-Based Psychotherapy, Expressive Arts and Joanna Macy's "The Work that Reconnects."
Develop a sacred connection to the land and live and lead from this center
Cultivate a nourishing daily connection with the wisdom and healing of the Earth, and infuse your life with its creative energy.
Enjoy greater peace and balance in your work and relationships through nature-based self-care practices, and develop tangible ways to give back to the land.
Belong to a strong peer cohort for ongoing inspiration, professional support and developing your leadership skills in these times of deep change.
Practice being an active partner in co-creating a life-sustaining, Earth-honoring culture in your community.
NEW Live and Recorded Interviews with Experts in the Field:
•  Considerations for Working Outdoors with Marginalized Populations
•  Healing Trauma through Ecotherapy
•  Ecotherapy and Addiction Recovery
•  Eco Art Therapy to Help Children Regulate and Heal
•  Somatic Ecotherapy Practices
•  Clinical Group Ecotherapy with Multiple Diagnoses and Diverse Populations
•  Documented scientific benefits of nature connection from a physiological, cognitive, emotional, sociological and spiritual perspective
•  Listening to Indigenous Perspectives on Ecotherapy Practice
•  Creating Life-sustaining, Earth-honoring Structures in your Community
•  Integrating the Art of Council into Diverse Settings
•  Creating Sacred Wilderness Ceremony for Personal and Social Transformation
•  Understanding Systemic Denial and Working with Climate Trauma
•  Decolonizing Ecopsychology
•  Horticulture Therapy as a Resource for Healing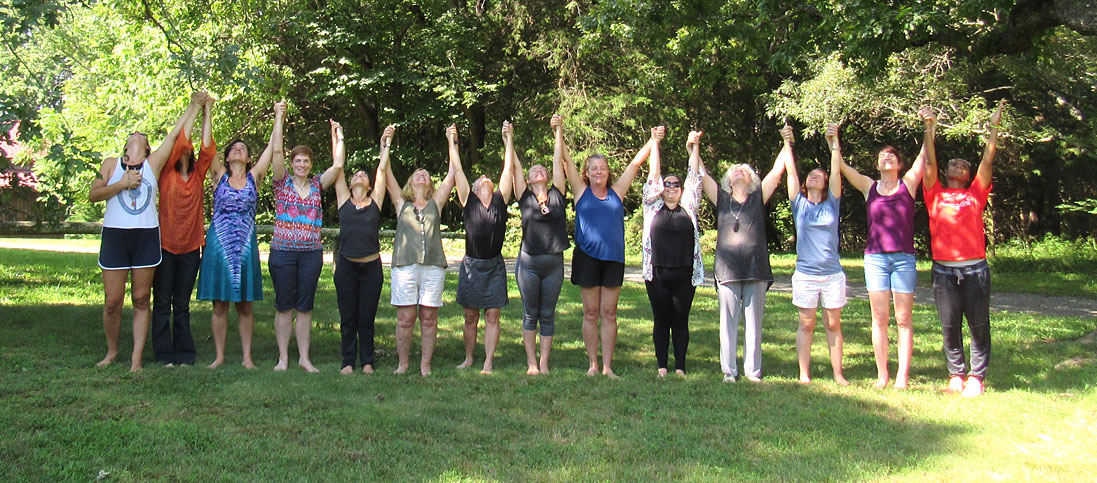 This Program is designed for:
Licensed therapists, interns and counseling students, coaches, educators, wellness practitioners, activists and more. 
The Earthbody Institute welcomes all humans of any gender identity, culture, race, religion and sexual orientation.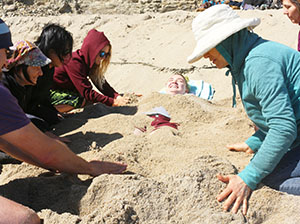 What Are You Waiting For?
What powerful seeds
lie dormant
deep within you,
longing
to break through
the surface
and reach
their slender stems
toward the light?
What tender buds
are swelling
inside you,
yearning to unfurl
their radiant petals
and reveal their
hidden beauty?
What songs and stories
are swirling
deep within
your breast?
What wild
and magical dreams
are stirring your soul?
What are you
waiting for,
dear one?
The world is hungry
for your beauty,
calling you
to bring forth
your deepest gifts.
The seeds
have been patient
for so long—
waiting
for just a few drops of rain,
a few rays of sun,
a few kind words…
don't deny them that.
Don't wait
until it feels safe
to break open…
that day
may never come.
~ Kai Seidenburg
PROGRAM OPTIONS
Join this year's program at Level 1, 2, or 3!
This program is designed in three levels:
To receive your 100-hour Ecotherapy Certification, you can either:
Complete all three levels from February-July, OR
Join the certification process at Level 2 or 3
(if you have completed the previous levels)
Certification Program:
A six-month program that includes Level 1, 2 and 3 plus special cohort meetings and consultations.
LEVEL 1 - ONLINE TRAINING
This foundational, interactive training provides a thorough introduction to Ecotherapy principles and practices, and a forum to learn and practice skills that will translate directly into your work.
Webinar Training Topics:
Ecotherapy's Gifts to Clinical Work
Cultivating Respectful, Reciprocal Relationships With the Natural World
How to do Indoor Ecotherapy
Level 1 & Level 2 Ecotherapy
Clinical Guidelines to Assess and Prepare Clients to go Outside
How to Practice Urban Ecotherapy
12 Steps to Create a Successful Outdoor Ecotherapy Workshop
Ecotherapy for Children and Teens
Horticulture Therapy
Animal Assisted Therapy
Integrating Joanna Macy's "The Work that Reconnects" into Clinical Ecotherapy
Bringing Expressive Arts into Ecotherapy
Plus Four Visionary Ecotherapist Interviews
LEVEL 2 - LAND-BASED IMMERSION PROGRAM
CALIFORNIA & VIRGINIA
A transformational training retreat where you will participate in an Earth-honoring community; enrich your personal nature practices; experience a broad range of Ecotherapy activities and interventions; and strengthen your ability to lead individual and group sessions.
LEVEL 3 - ONLINE TRAINING AND LAND-BASED IMMERSION—NEW PROGRAM!
A groundbreaking new program to deepen your practice and explore creative and therapeutic responses to climate chaos and other growing-edge issues. You will broaden and refine your Ecotherapy skills and knowledge; develop a strong peer cohort for ongoing personal and professional support and understand how to become an active partner in creating Earth-honoring structures in your community.
New Live and Recorded Interviews with Experts in the Field:
Considerations for Working Outdoors with Marginalized Populations
Healing Trauma through Ecotherapy
Ecotherapy and Addiction Recovery
Eco Art Therapy to Help Children Regulate and Heal
Somatic Ecotherapy Practices
Clinical Group Ecotherapy with Multiple Diagnoses and Diverse Populations
Documented scientific benefits of nature connection from a physiological, cognitive, emotional, sociological and spiritual perspective
Listening to Indigenous Perspectives on Ecotherapy Practice
Creating Life-sustaining, Earth-honoring Structures in your Community
Integrating the Art of Council into Diverse Settings
Creating Sacred Wilderness Ceremony for Personal and Social Transformation
Understanding Systemic Denial and Working with Climate Trauma
Decolonizing Ecopsychology
Horticulture Therapy as a Resource for Healing
Land-Based program Blue Ridge Mountains, VA OR Santa Cruz Mountains, CA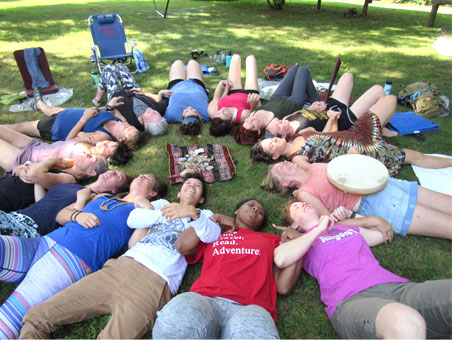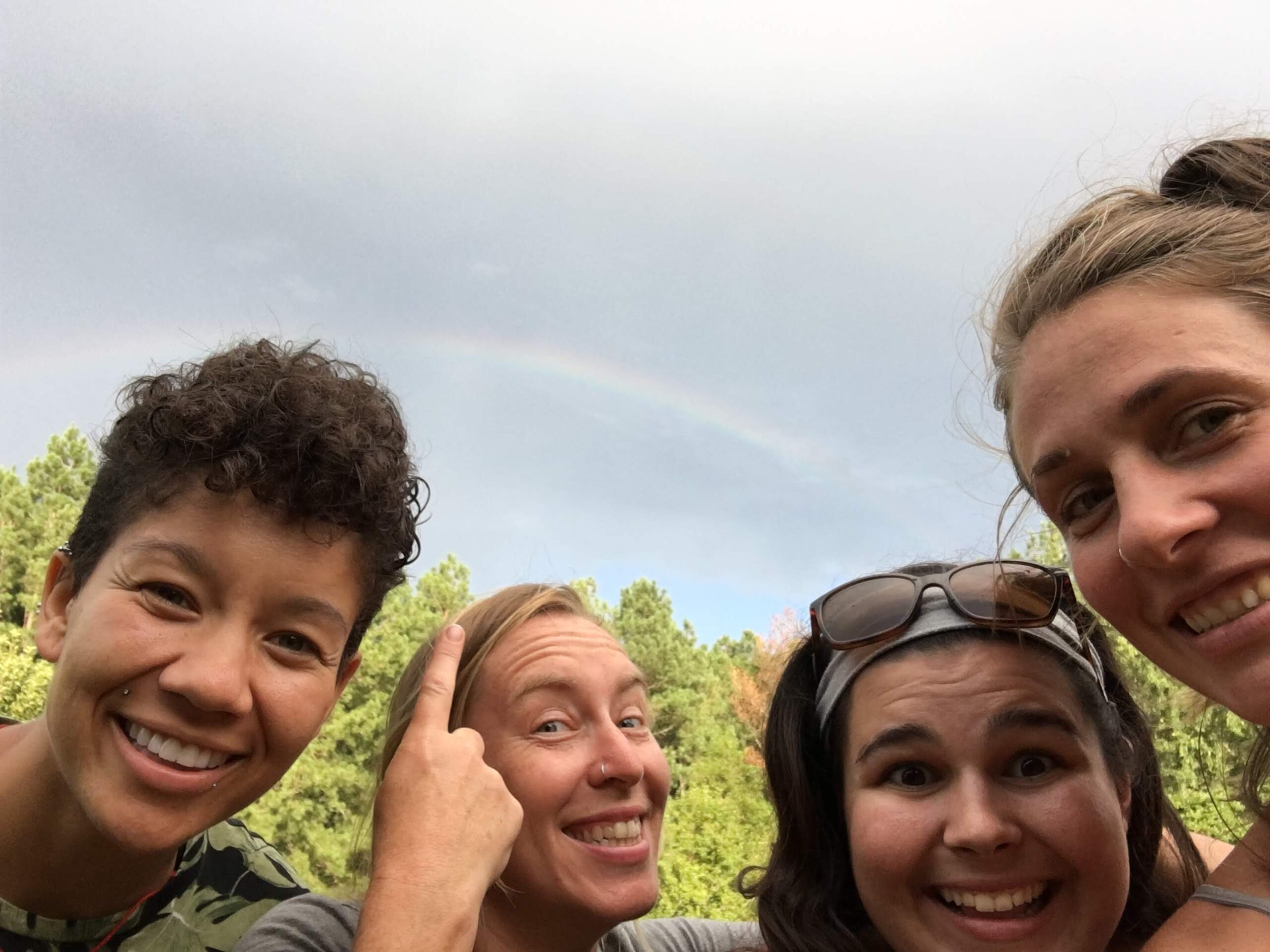 What participants say:
"Ariana and Kai are two incredible women who have passion and drive for what they do. From calming your soul with connection to the natural world, moving without judgement, or simply reflecting and pondering on experiences, this training is an incredible opportunity to personally experience how to be successful in Ecotherapy…It gave me a better understanding and tools to help support not only my own nature practices, but also those I work with. 
The knowledge, education, friendships, and love that you will feel during this experience, is incredible AND it is a judgement free space…This training is an A+! I can not wait for more opportunities to work with these outstanding woman."
~ Jamie Carrier, Certified Health Coach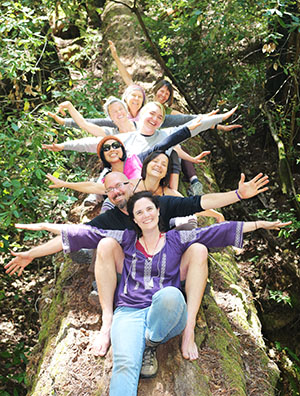 "If you want to deepen your connection to nature in a practical, spiritual and emotional way,
If you want to learn exercises to heal others and heal the earth,
If you want a teacher who is open, supportive, connected and fun,
If you want to learn about nature therapy while growing with other excited nature lovers, this course is for you.
If you want to retreat to natural oasis' while learning intensively,
If you want to feel more connection to your life mission, this course is for you.
If you want to gain confidence in your abilities and learn how to process your fears,
If you want to enjoy the company of redwoods and Northern California's magnificent, unique beauty,
If you want a soulful learning experience, this course is definitely for you."
~ Jocelyn Rose Everett, Nature-inspired songstress
Immerse yourself in profound somatic, spiritual and expressive arts experiences

to facilitate individual and community healing
Our Ecotherapy program weaves together collaboration with nature and a potent combination of transformative personal growth, dynamic community support and

empowered

social activism. We are unique in blending Dance Movement Therapy, Somatic Ecotherapy, expressive arts and social activism with cutting-edge Ecopsychology topics and specific Ecotherapy applications

.
Our training approach is a unique and skillful integration of experiential learning, conceptual learning, peer support, and personal practice.
Special Bonuses:
10 Favorite Ecotherapy Interventions pamphlet

 

Immersion Training Outlines include all the Ecotherapy practices learned, so it's easy to integrate them directly into your life and work.
Access to 14 additional Interviews from our Ecotherapy Conference: Vibrant Branches: Empowering Visions, Diverse Voices and Practical Tools for Reconnecting with the Earth and Ourselves .
This program is a great fit for you if:
You want to receive the support of a strong Earth-loving community to take bold, authentic steps for your life, your profession and our planet.
You are ready to learn practical Ecotherapy tools to enrich and deepen your work with your clients.
You want to nourish yourself in alignment with nature's wisdom.
You feel called to cultivating an Earth-honoring lifestyle, and conscious interconnectedness with the natural world and all beings.
You are a therapist, coach, teacher, leader or activist, who wants to become more empowered and effective in sharing your gifts.
You want the support of a loving community to understand and navigate the pain for our environmental, political and social crises, and to help you move forward with more hope.
You long to develop a more grounded and holistic relationship with your body, mind and spirit, and to express yourself more fully in all parts of your life.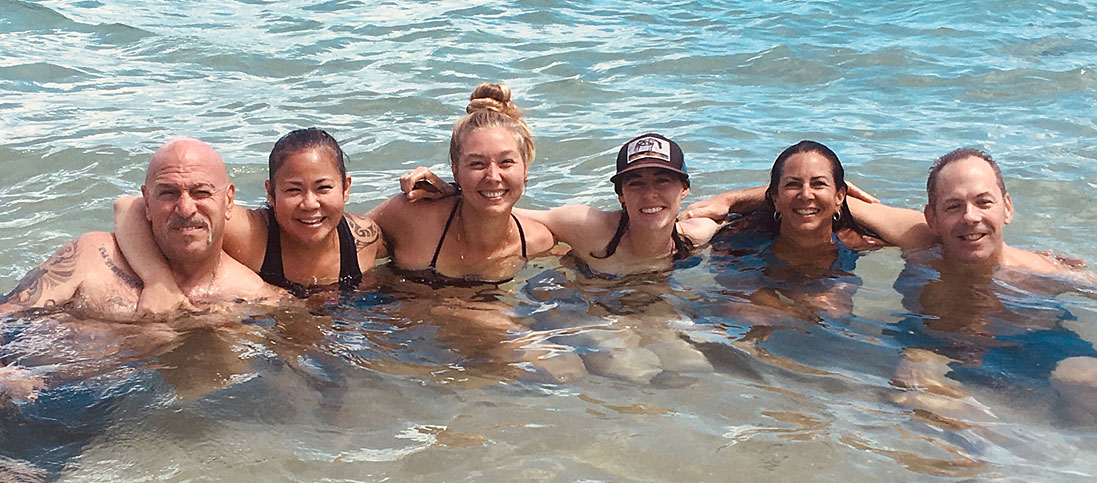 THE PROGRAM INCLUDES
Two five-day, land-based trainings

in the

Santa Cruz Mountains, CA and

Blue Ridge Mountains, VA

 

25 training webinars (both live and recorded)

with experts in the field, including Joanna Macy, Linda Buzzell, Andy Fisher, Craig Chalquist, Martin Jordan and Pinar Sinopolous-Lloyd

Course materials in a professional online training format

with current Ecotherapy articles, step-by-step handouts and assignments for integration of skills

12 live 90-minute online group gatherings

for dynamic learning 

Two 60-minute experiential Ecotherapy sessions with Ariana

or four 30-minute individual consultations with Ariana or Kai. 

Practice with peer feedback and consultation

for individual sessions and group offerings 

Guidance to grow your Ecotherapy business

with training, consultation and group mastermind time.

Support for being an active partner in local, community-based initiatives to create a more life-sustaining society.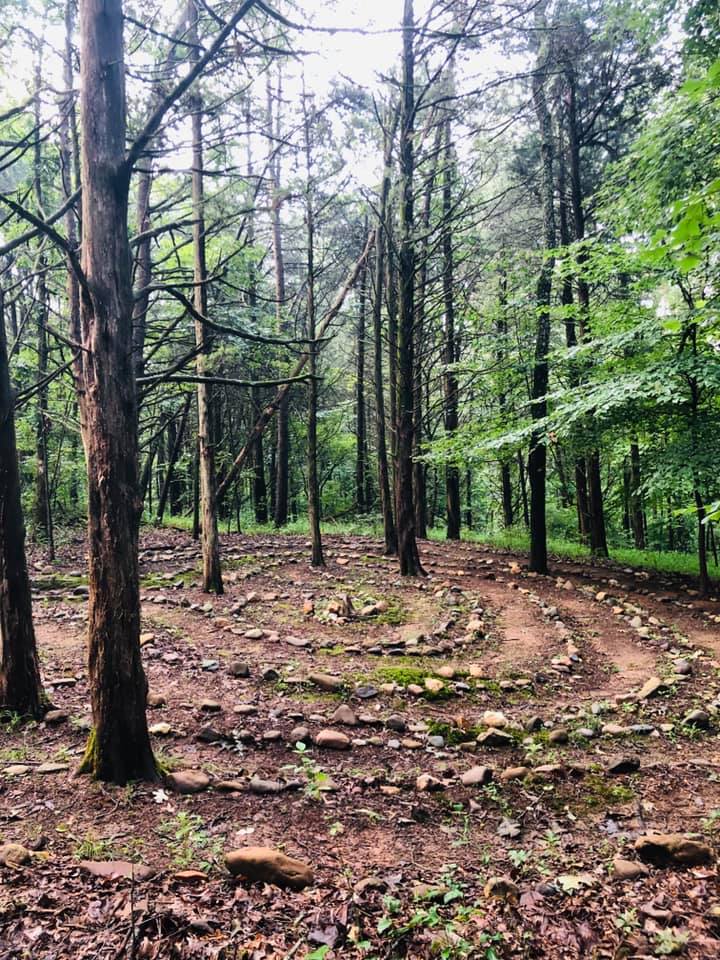 Ecotherapy Certification
You will receive an Ecotherapy Certification for completion of this training program.
45 CE's Available for an extra $60 (with more pending approval)
Teachings are appropriate for healthcare professionals as well as the general public. Healthcare professionals will be able to incorporate the tools and practices offered in this program in ways beneficial to clients or patients.
Licensure hours
AMFT's and other interns may count hours towards licensure.
What participants say:
"The opportunity to be immersed in nature, guided by a skillful leader and inspired by the many gifts of nature is priceless. The rhythm and flow of this work allows for deep and profound inner healing, collective healing and subsequently the healing of our planet which is so very critical at this point in time. Thank you Ariana for being willing to offer this incredible program which is available to nature lovers and healers."
~ C. Blake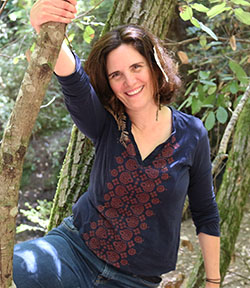 "Ariana holds space by offering such a perfect balance of acceptance and guidance. She does a beautiful job of reflecting the strengths of the participants back to them so that they come to know their own abilities.
This training was a full and satisfying experience for both the heart and the head. Ariana has an impeccable sense of timing when it comes to program planning, and helping trainees plan their own workshop agendas. She is adaptable and strong in all the best ways and was extremely helpful in holding a vision of excellence for me that encouraged me to take action to build my own Ecotherapy practice. She showed me some key ways to make little changes to my own programs that have made a big difference."
~ Katie Baptist, LCSW
INVESTMENT
Hold your place: $297
(non-refundable deposit)
Training cost for all three modules: $3488
Plus housing, meals and facility use for five-day trainings:
$1000 for indoor lodging at Quaker Center & Indoor lodging at Sevenoaks.
If you choose the camping option at Sevenoaks, you will receive a $100 refund at the training.
PAYMENT PLANS AVAILABLE: 7 regular monthly payments
Only 12 spots available, and they will fill up!
PARTIAL SCHOLARSHIPS
Four partial scholarships available on first-come, first-served basis:
Equity scholarships for those who identify as people of color, LGBTQ and historically marginalized populations
Work-study positions for those who need a financial discount for the training
Fill out the form HERE if you would like to apply for a partial scholarship or work-study position
REFUND POLICY
We are building a cohesive, supportive learning community which includes a shared  commitment to creating this container together. If challenges come up for you in this program, we will work with you to resolve them in a mutually beneficial way.
A $297 deposit reserves your place and is non-refundable
If you withdraw from the program in writing before January 21, 2020, you will be refunded 50% of payments you have made (not including the deposit)
If you withdraw from the program in writing on or after January 21, but before February 28, 2020, you will be refunded 25% of any payments you have made (not including the deposit)
If you withdraw from the program in writing after February 28, 2020 you will forfeit all of the payments you have made. 
If you are on a payment plan and decide to leave the program at some point, you will not receive any refunds.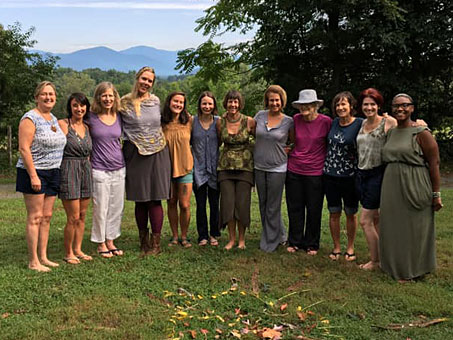 Join us to listen deeply to the voices of the natural world and each other.
Join us to support individual, societal and planetary healing.
Join our courageous community to recreate and reweave healthy and balanced ways of living on Earth.
Join us to cultivate hope, heart and action!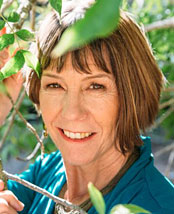 Ariana Candell, LMFT, R-DMT, Ecotherapist, is a licensed psychotherapist with 20-plus years experience and a pioneer in the emerging field of Somatic Ecotherapy. For the last decade, she has been an active leader in transforming the field of psychotherapy to include connecting to the natural world as an essential part of healing.
Ariana is founder of The Earthbody Institute, a professional, educational, and transformational forum dedicated to the cultivation of dynamic mutual relationships with the natural world. She is creator of the groundbreaking Professional Ecotherapy Training and Certification Program, now entering its fourth year. She facilitates workshops locally and internationally, including Online Ecotherapy Certificate Programs, Ecotherapy Immersion Programs and consultation groups. She also teaches Ecotherapy seminars as an adjunct professor at John F. Kennedy University.
Ariana believes that developing a consistent nature connection practice with elements of somatic awareness and openness to the sacred can foster a more holistic and balanced way of life. She is devoted to her own daily spiritual practice in nature, and encourages her private clients and students to develop their own practice. In all of her programs, she facilitates creation of a strong Earth-honored community, fulfilling an ancient human need of experiencing a profound connection to the sacredness of all beings.
Ariana is thrilled to be practicing Ecotherapy outdoors in the East Bay hills with more than half of her individual clients, and also brings the power of nature indoors to her private practice in Berkeley. Her main therapeutic influences include Hakomi Mindfulness-Centered Somatic Psychotherapy, Somatic Ecotherapy, Dance Movement Therapy and Earth-based trainings from The School of Lost Borders.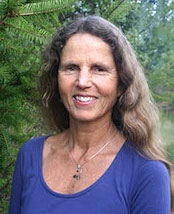 Kai Siedenburg is a nature connection guide, Ecotherapist, and poet who is a pioneer in integrating nature awareness and mindfulness as a path to mind-body wellness.  She is passionate about helping people connect with nature as a path to greater peace, joy, and healing in their lives and in the world. 
Kai loves to empower people to find simple ways to connect with the Earth in daily life, to cultivate deeper bonds with wild places, and to access nature-based healing.  Her first book, Poems of Earth and Spirit:  70 Poems and 40 Practices to Deepen Your Connection with Nature, celebrates our innate kinship with all life and helps us strengthen that kinship wherever we are.  
As the founder of Our Nature Connection, Kai offers group programs, individual sessions, and consulting services based on a unique approach she calls NatureWise.  Her approach is rooted in deep listening to nature, infused with love for people and the Earth, and shaped by what activist Carolyn Casey calls "a willingness to collaborate with everything."  
Kai's work is also is informed by 30-plus years of professional experience developing innovative educational programs and by extensive training and practice in mindfulness, holistic healing, and creative expression.  Prior to founding Our Nature Connection, she spent 25 years leading non-profit campaigns and programs to advance sustainable and socially just food systems.
Kai is profoundly nourished by her deep love of the lands and waters of the Santa Cruz area, where she has lived for more than 30 years.
Information on Continuing Education Credit for Health Professionals
CE credits for psychologists are provided by the Spiritual Competency Academy (SCA) which is co-sponsoring this The Spiritual Competency Academy is approved by the American Psychological Association to sponsor continuing education for psychologists. Spiritual Competency Academy maintains responsibility for this program and its content.
The California Board of Behavioral Sciences accepts CE credits for LCSW, LPCC, LEP, and LMFT license renewal for programs offered by approved sponsors of CE by the American Psychological
LCSW, LPCC, LEP, and LMFTs, and other mental health professionals from states other than California need to check with their state licensing board as to whether or not they accept programs offered by approved sponsors of CE by the American Psychological
SCA is approved by the California Board of Registered Nursing (BRN Provider CEP16887) for licensed nurses in California. RNs must retain this document for 4 years after the course
SCA is an approved CE provider for National Board Certified Health and Wellness Coaches (CEP Number 100196)
For questions about receiving your Certificate of Attendance, contact The Earthbody Institute earthbodyinstitute@gmail.com. For questions about CE, visit www.spiritualcompetency.com or contact David Lukoff, PhD at CE@spiritualcompetency.com.