Professional Ecotherapy Certificate Immersion Program
Translate your love of nature into your life and work!
Professional Ecotherapy Certificate Immersion Program
Translate your love of nature into your life and work!
West Coast
September 24-29, 2021
Applegate Retreat Center, Northern California
East Coast
July 25-30, 2021 
Sevenoaks Retreat Center, Virginia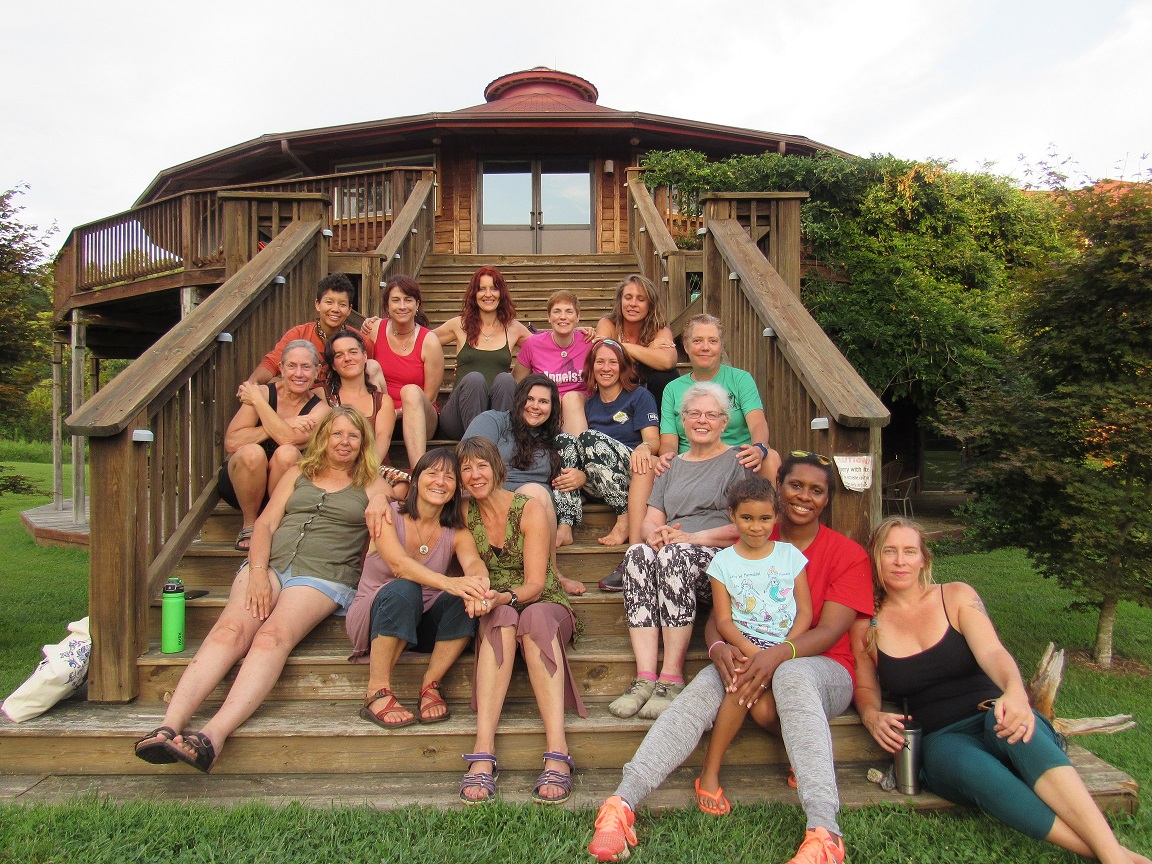 Now is the time to include nature-honoring principles in our healing work!
When we give ourselves time to immerse in nature—walking among trees, gazing at expansive vistas, listening to birdsong—we feed our hearts and spirits. We touch into ancient wisdom within us and around us from the land, creatures and elements. We restore our bodies and minds and receive a well of inspiration to share with our clients and those around us.
When we immerse in nature as part of an Earth-loving community with a shared intention, it's especially bonding and transformational. Exploring nature connection practices together can lead to profound shifts in how we experience nature and give us powerful tools and motivation to carry this back into our personal and professional lives.
Ariana Candell, LMFT, R-DMT, Ecotherapist
Learn clinical, earth-based practices to enrich your professional work
with individuals and groups.
This training is designed to help you:
– Apply a wide of range outdoor nature-based interventions to your current professional practice with individuals and groups.
– Demonstrate an outdoor individual ecotherapy session that integrates the major components of ecotherapy with your own professional modality.
– Describe how to create a safe, supportive group nature connection experience and the steps to design your own nature-inspired workshops.
– Apply tools to support people in transforming pain for the world into positive action, by using "The Work that Reconnects"
To see all the learning outcomes of the training click here.
Personal benefits of the training:
– Gain clarity, inspiration and peace through daily nature practices
– Translate your passion for nature into your life and healing work
– Experience foundational support from a dynamic, Earth-honoring community
This program is designed for:
Licensed clinicians, interns and counseling students, wellness practitioners, coaches, ministers, teachers, healers, and more.
25 CE's available for an extra cost
Teachings are appropriate for healthcare professionals as well as the general public.
Healthcare professionals will be able to incorporate the tools and practices offered in this program in ways beneficial to clients or patients.
Credit is awarded for instructional time only and does not include the activities of circle singing, extended nature connection time, meals, etc.
We welcome all humans of any gender identity, culture, race, religion, sexual orientation and economic circumstance.
Experience the power of being in Earth-honoring community to share visions, hopes, and support.

.
>
What participants say:
"Our week together in Virginia was the highlight of the year for me. Not only did the week help me connect with nature and teach me so much about ecotherapy, but, more importantly and meaningful, was the surprising joy of connecting with an incredible group of women. You all, my earth sisters, feel like soul sisters and I'm so blessed for having you in my life… I feel a connection to you in my heart that seems to span time and distance and I believe has forever changed me in a profound and beautiful way."
                 ~ Michelle Engle, Pastoral Psychotherapist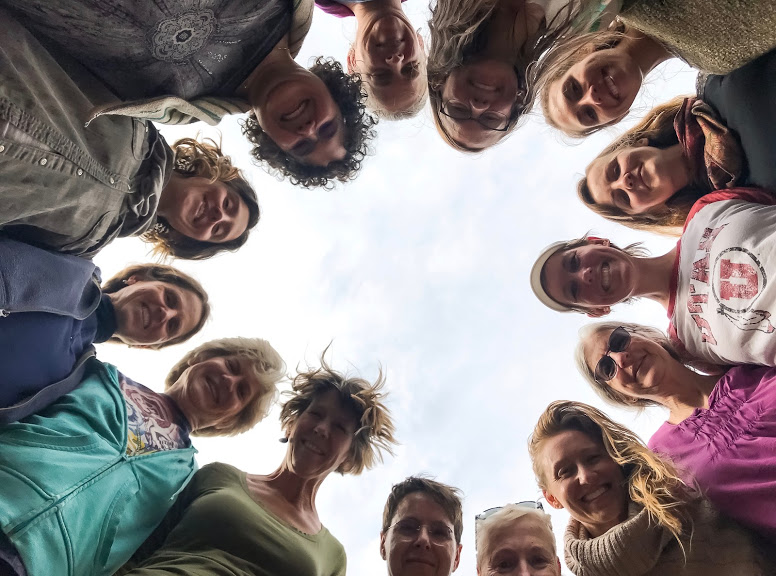 "It was a wonderful experience to be in the presence of such passionate and knowledgeable women. Seven Oaks offered a safe and nourishing environment for the learning, expanding, and connecting we were doing. Ariana's gentle style of guiding and teaching offered ease and acceptance to all that arose and was present. The movement in combination with natural environment was an organic unfolding of pure support and magical connection! Grateful to have moved with and been moved by the leadership & community formed!"
       ~ Wakelyn Malitz MA, LPC-I, R-DMT
Experience the power of being in Earth-honoring community
to share visions, hopes and support.

Our training perspective:
Our Ecotherapy program is unique because we blend deep nature connection with the modalities of Somatic Therapy, Expressive Arts and Social Activism. Our practical and theoretical roots are in Hakomi Mindfulness-based Somatic Psychotherapy, Dance Movement Therapy and Joanna Macy's activist-inspired "Work that Reconnects."
Our training approach:
Experiential practices, clinical discussion, lecture, demonstration, applied practices, integrative journaling, consultation and peer feedback, as well as personal time for nature connection, networking, rest and rejuvenation.
Trainings include a richly nourishing blend of experiences:
Authentic Movement in nature, sacred ceremony in wild nature creating altars, rituals, and mandalas, circle singing, a fire drum circle, dancing with the four elements and a night walk under the stars.
NEW Special Bonus Booklet:
10 Favorite Ecotherapy Interventions makes it easy to take home what you've learned and put it directly into practice for you and your clients.
Ecotherapy Certificate
You will receive an Ecotherapy Certificate for completion of this training program.
Please note this program has space for only 12 participants.
Numerous studies demonstrate that what many of us know from experience: contact with nature is profoundly restorative and healing. Ecotherapy helps people draw on this innate therapeutic bond for emotional, mental, physical, and spiritual healing. Ecotherapy teaches clinical practices and protocol that draw on the calming, healing power of nature to treat a multitude of clinical issues, while teaching people to relate to the natural world in respectful, reciprocal ways.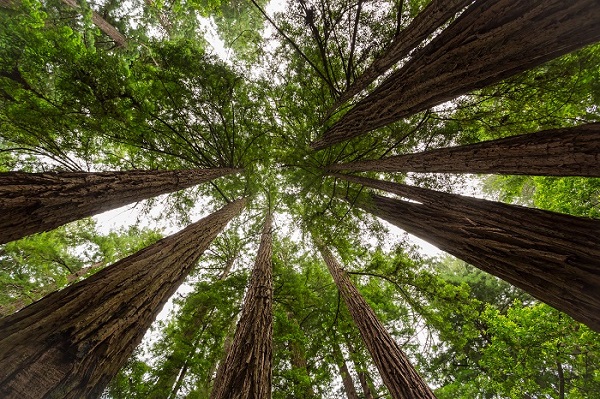 A rapidly growing body of research studies shows that Ecotherapy can: lift depression, relieve stress and anxiety, counter isolation, reduce ADHD symptoms, lessen post-traumatic stress and eating disorder symptoms and much more. (Buzzell & Chalquist, 2009)
The American Psychological Association's 2017 report on "Mental Health and our Changing Climate" states that the impacts of climate change negatively affect our mental health. "They induce stress, depression, and anxiety; strain social and community relationships; and have been linked to increases in aggression, violence, and crime." Ecotherapy practices offer effective interventions for processing climate-related issues and their psychological symptoms, and inspiring constructive responses to these challenges.

What participants say:
"Ariana's trainings have been monumental to my evolution as an ecotherapy educator, facilitator, and practitioner. They helped me go beyond my comfort zone to explore powerful new ways of connecting with and learning from the natural world. I have since incorporated these new understandings into my existing course "The Science & Experience of Ecotherapy" at William & Mary, and it has taken the course to another level. I am eternally grateful to have had the opportunity to learn from such an inspirational and accomplished leader in the field!"
~ Dorothy C. Ibes, PhD
Senior Lecturer, Environmental Science & Policy and Center for Geospatial Analysis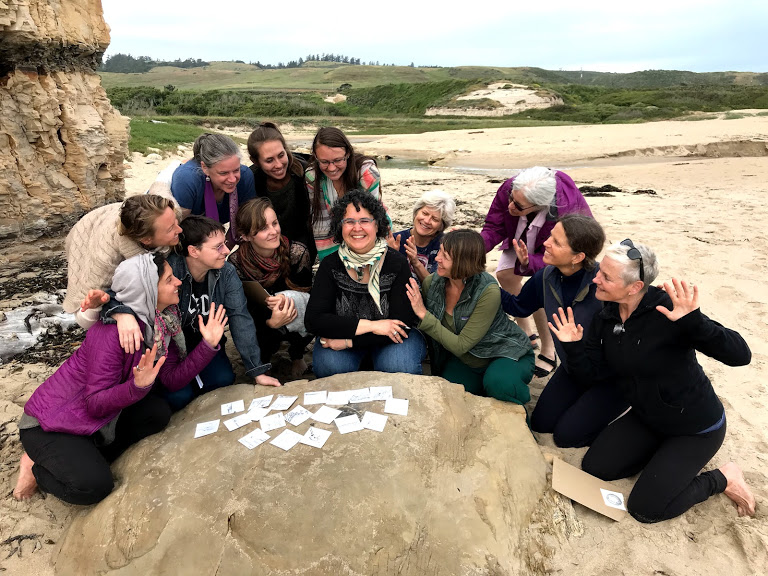 "This program has true holistic integrity. The teachings, the teachers, the venue and even the food were all in alignment with healthy eco-consciousness. There was a fabulous balance of practical and sacred approaches to ecotherapy both from a personal and clinical perspective. The curriculum was applicable to those who are newly acquainted to the natural world and also to those who have an abiding devotion to ecotherapy. I highly recommend this program for individual and collective evolution as a practitioner and as a human on this planet, at this time."
~ Sarita Jessica Benn-Towle, AMFT
INVESTMENT
Training: $997
Payment plans available
Retreat: $600 – This includes housing, meals, and all facility use.
Camping: (Virginia only): $500 – This include tent space, meals, and all facility use.
SCHOLARSHIPS
Three partial scholarships
are available on first-come, first-served basis:
Equity Scholarship
for those who identify as people of color, LGBTQ and historically marginalized populations
Work-study positions
for those who need a financial discount for the training
Please note this program has space for only 12 participants.
REFUND POLICY
These trainings are in high demand. If you cancel at least two months before  the start of the training, you will receive a 75% refund of the cost of the training (minus the initial deposit). If you cancel between one and two months before the start of the training you will receive a 25% refund (minus the initial deposit). Cancellations made less than one month before the start of the training will not be refunded.
Northern California Training: Due to the possibility of fires in Northern CA, there is a chance that the training may be cancelled due to unsafe levels of smoke in the air.  If that occurs, you will have the option of either having your full payment (including the deposit) credited toward a future EBI program or receiving a full refund.  If there are any fires or smoke impacting the area in the weeks before the training, we will monitor the situation closely and keep you informed.
Join us for a transformational journey to connect with the wisdom of the land.
What participants say:
"This experience surrounded me in love and power…It boosted my confidence and expanded my knowledge to effectively use ecotherapy in my work."
                                       ~ Cecelia Futch, LPCC 
"A transformative gift of inspiration, courage, vulnerability, authenticity, and vital connection…."
                                       ~ Paula Pappajohn, MA, RCC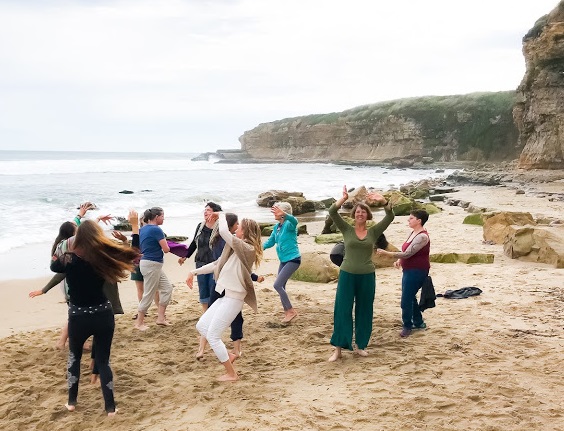 "Ariana's Immersion course was one of the most precious experiences of my life. It awakened my deep love …and joyful inner relationship with Nature. It strengthened my commitment to advocate for the Earth and healed much of my pain, guilt and shame for the harm being done. It inspired me to keep feeling and make choices to protect and heal the Earth."  
                                       ~ D. C., LMFT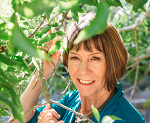 Ariana Candell, LMFT, R-DMT, Ecotherapist, is a licensed psychotherapist with 20-plus years experience and a pioneer in the emerging field of Somatic Ecotherapy. For the last decade, she has been an active leader in transforming the field of psychotherapy to include connecting to the natural world as an essential part of healing.
Ariana is founder of The Earthbody Institute, a professional, educational, and transformational forum dedicated to the cultivation of dynamic mutual relationships with the natural world. She is creator of the groundbreaking Professional Ecotherapy Training and Certification Program, now entering its fourth year. She facilitates workshops locally and internationally, including Online Ecotherapy Certificate Programs, Ecotherapy Immersion Programs and consultation groups. She also teaches Ecotherapy seminars as an adjunct professor at John F. Kennedy University.
Ariana believes that developing a consistent nature connection practice with elements of somatic awareness and openness to the sacred can foster a more holistic and balanced way of life. She is devoted to her own daily spiritual practice in nature, and encourages her private clients and students to develop their own practice. In all of her programs, she facilitates creation of a strong Earth-honored community, fulfilling an ancient human need of experiencing a profound connection to the sacredness of all beings.
Ariana is thrilled to be practicing Ecotherapy outdoors in the East Bay hills with more than half of her individual clients, and also brings the power of nature indoors to her private practice in Berkeley. Her main therapeutic influences include Hakomi Mindfulness-Centered Somatic Psychotherapy, Somatic Ecotherapy, Dance Movement Therapy and Earth-based trainings from The School of Lost Borders.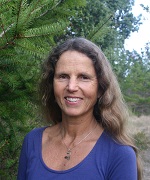 West Coast
Kai Siedenburg is a nature connection guide, Ecotherapist, and poet who is a pioneer in integrating nature awareness and mindfulness as a path to mind-body wellness.  She is passionate about helping people connect with nature as a path to greater peace, joy, and healing in their lives and in the world. 
Kai loves to empower people to find simple ways to connect with the Earth in daily life, to cultivate deeper bonds with wild places, and to access nature-based healing.  Her first book, Poems of Earth and Spirit:  70 Poems and 40 Practices to Deepen Your Connection with Nature, celebrates our innate kinship with all life and helps us strengthen that kinship wherever we are.  
As the founder of Our Nature Connection, Kai offers group programs, individual sessions, and consulting services based on a unique approach she calls NatureWise.  Her approach is rooted in deep listening to nature, infused with love for people and the Earth, and shaped by what activist Carolyn Casey calls "a willingness to collaborate with everything."  
Kai's work is also is informed by 30-plus years of professional experience developing innovative educational programs and by extensive training and practice in mindfulness, holistic healing, and creative expression.  Prior to founding Our Nature Connection, she spent 25 years leading non-profit campaigns and programs to advance sustainable and socially just food systems.
Kai is profoundly nourished by her deep love of the lands and waters of the Santa Cruz area, where she has lived for more than 30 years.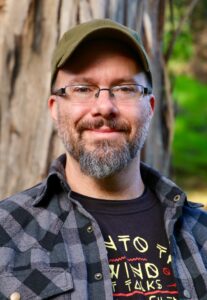 East Coast
Ryan Van Lenning, MA, is an inner and outer wilderness guide, ecotherapist, and teacher. Ryan is certified as an ecotherapist through The Earthbody Institute, trained as a Wilderness Ceremony/Rite-of-Passage Guide through the School of Lost Borders, and is a Certified Wilderness First Responder through Foster Calm. Prior to moving to California 13 years ago, he taught Philosophy, Comparative Religion, and Environmental Justice at Sinclair College in Ohio.
Ryan is passionate about supporting people to re-connect with the wisdom of both inner and outer wild nature, to live their soul callings into the world, and to assist in the work of repairing broken belonging in this time of the Great Turning/Great Composting. Trusting in co-liberation, he is grasped by a wondering: Can we, with wild nature hearts and humble courage, face this Collective Initiation of intersecting social and ecological crises intentionally?
Through Wild Nature Heart, Ryan offers 1-on-1 earth-rooted mentoring, custom wilderness ceremonies/rites-of-passage (next group program September 2021), ecospiritual courses and workshops, and community Circles of the Great Turning.
Ryan is also a poet and author of Re-Membering: Poems of Earth & Soul and High-Cooing Through the Seasons: Haiku From the Forest. His poem 'And All the Walls Between Them,' responding to current immigration policies and social injustices, was recipient of the 2019 Jodi Stutz Poetry Award by Toyon Literary Magazine. His new collections Riverever and One Bright and Real Caress will be released in 2021. He live and works among the forest and rivers in northern California, ancestral Wiyot, Yurok, and Sinkyone lands.
http://wildnatureheart.com 
Information on Continuing Education Credit for Health Professionals
CE credits for psychologists are provided by the Spiritual Competency Academy (SCA) which is co-sponsoring this The Spiritual Competency Academy is approved by the American Psychological Association to sponsor continuing education for psychologists. Spiritual Competency Academy maintains responsibility for this program and its content.
The California Board of Behavioral Sciences accepts CE credits for LCSW, LPCC, LEP, and LMFT license renewal for programs offered by approved sponsors of CE by the American Psychological
LCSW, LPCC, LEP, and LMFTs, and other mental health professionals from states other than California need to check with their state licensing board as to whether or not they accept programs offered by approved sponsors of CE by the American Psychological
SCA is approved by the California Board of Registered Nursing (BRN Provider CEP16887) for licensed nurses in California. RNs must retain this document for 4 years after the course
SCA is an approved CE provider for National Board Certified Health and Wellness Coaches (CEP Number 100196)
For questions about receiving your Certificate of Attendance, contact The Earthbody Institute earthbodyinstitute@gmail.com. For questions about CE, visit www.spiritualcompetency.com or contact David Lukoff, PhD at CE@spiritualcompetency.com.