Ecotherapy Certificate Immersion Program
Translate your love of nature into your life and work!
Ecotherapy Certificate Immersion Program
Translate your love of nature into your life and work!
East Coast
July 28 – August 2, 2019 
Immerse yourself
in the ancient beauty
of the Blue Ridge Mountains
Sevenoaks Retreat Center, Virginia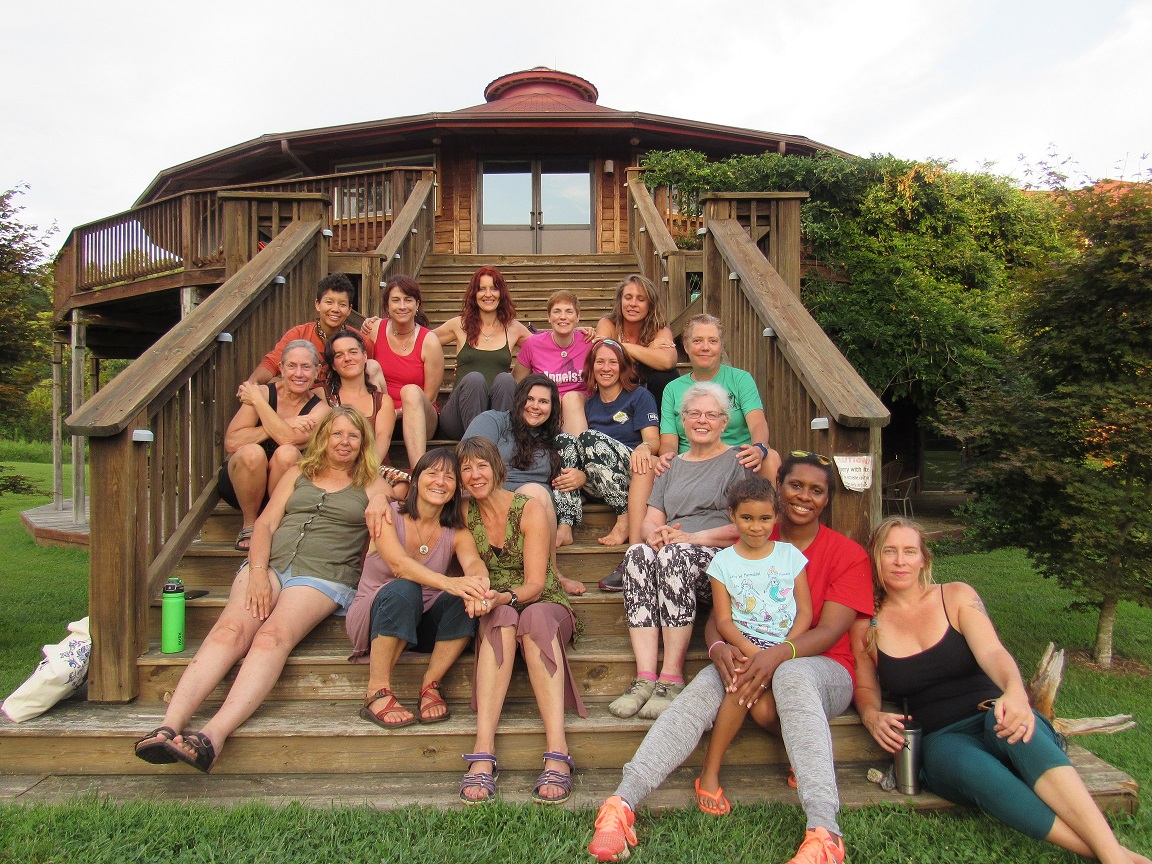 Hawaii
September 27-October 2, 2019 
Let the wild ocean
and lush flora
of the island coast
awaken and enliven you
Windward Retreat Center, Ka'a'awaa, Oahu
Now is the time to include nature-honoring principles in our healing work!
When we give ourselves time to immerse in nature—walking among trees, gazing at expansive vistas, listening to birdsong—we feed our hearts and spirits. We touch into ancient wisdom within us and around us from the land, creatures and elements. We restore our bodies and minds and receive a well of inspiration to share with our clients and those around us.
When we immerse in nature as part of an Earth-loving community with a shared intention, it's especially bonding and transformational. Exploring nature connection practices together can lead to profound shifts in how we experience nature and give us powerful tools and motivation to carry this back into our personal and professional lives.
Ariana Candell, LMFT, R-DMT, Ecotherapist
Receive personal and professional
Earth-based practices to uplift and strengthen you.
Experience personal transformation:
– Gain clarity, inspiration and peace through daily nature practices
– Translate your passion for nature into your life and healing work
– Experience foundational support from a dynamic, Earth-honoring community
Acquire skills for practicing Ecotherapy:
– Expand your professional work with a wide range of nature-based interventions
– Learn to create your own nature-inspired, somatic and expressive arts workshops
– Find out how to transition clients to outdoors settings with confidence and ease
– Learn tools to support clients affected by the political climate through activism-inspired Ecotherapy
This program is designed for:
Licensed clinicians, interns and counseling students, wellness practitioners, coaches, ministers, teachers, healers, and more.
CE's available for an extra $50
Teachings are appropriate for healthcare professionals as well as the general public.
Healthcare professionals will be able to incorporate the tools and practices offered in this program in ways beneficial to clients or patients.
We welcome all humans of any gender identity, culture, race, religion, sexual orientation and economic circumstance.
What participants say:
"Our week together in Virginia was the highlight of the year for me. Not only did the week help me connect with nature and teach me so much about ecotherapy, but, more importantly and meaningful, was the surprising joy of connecting with an incredible group of women. You all, my earth sisters, feel like soul sisters and I'm so blessed for having you in my life… I feel a connection to you in my heart that seems to span time and distance and I believe has forever changed me in a profound and beautiful way."
                 ~ Michelle Engle, Pastoral Psychotherapist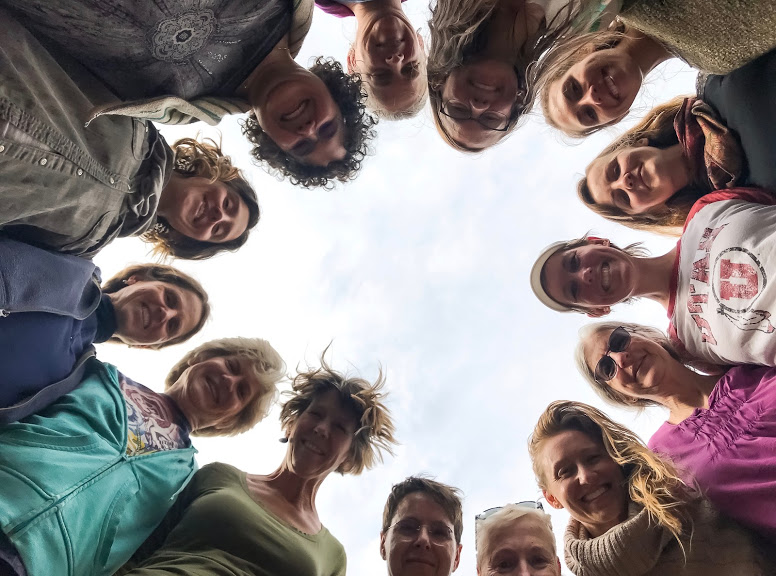 "It was a wonderful experience to be in the presence of such passionate and knowledgeable women. Seven Oaks offered a safe and nourishing environment for the learning, expanding, and connecting we were doing. Ariana's gentle style of guiding and teaching offered ease and acceptance to all that arose and was present. The movement in combination with natural environment was an organic unfolding of pure support and magical connection! Grateful to have moved with and been moved by the leadership & community formed!"
       ~ Wakelyn Malitz MA, LPC-I, R-DMT
Experience the power of being in Earth-honoring community
to share visions, hopes and support.
Our training approach:
Our Ecotherapy program is unique because we blend deep nature connection with the modalities of Somatics, Expressive Arts and Social Activism. Our practical and theoretical roots are in Hakomi Mindfulness-based Somatic Psychotherapy, Dance Movement Therapy and Joanna Macy's activist-inspired "Work that Reconnects."
This training integrates:
Experiential activities, sharing, clinical discussion, hands-on practice, consultation and peer support, as well as personal nature connection, networking, rest and rejuvenation.
Both trainings include a richly nourishing blend of experiences:
Authentic Movement in nature, Earth dream exploration, Mirroring from the Four Shields, Council Practice, a labyrinth walk, circle singing, a fire drum circle, and sacred ceremony in the mountain wilderness creating altars, ritual, and mandalas.
Additional Blue Ridge features:
An indigenous-based sweat lodge, and expert introduction to the flora and fauna of the Blue Ridge Mountains and a special class about Ecotherapy with children and teens.
NEW Special Bonus Booklet:
10 Favorite Ecotherapy Interventions makes it easy to take home what you've learned and put it directly into practice for you and your clients.
Ecotherapy Certificate
You will receive an Ecotherapy Certificate for completion of this training program. 
Please note this program has space for only 14 participants.
What participants say:
"Ariana's trainings have been monumental to my evolution as an ecotherapy educator, facilitator, and practitioner. They helped me go beyond my comfort zone to explore powerful new ways of connecting with and learning from the natural world. I have since incorporated these new understandings into my existing course "The Science & Experience of Ecotherapy" at William & Mary, and it has taken the course to another level. I am eternally grateful to have had the opportunity to learn from such an inspirational and accomplished leader in the field!"
~ Dorothy C. Ibes, PhD
Senior Lecturer, Environmental Science & Policy and Center for Geospatial Analysis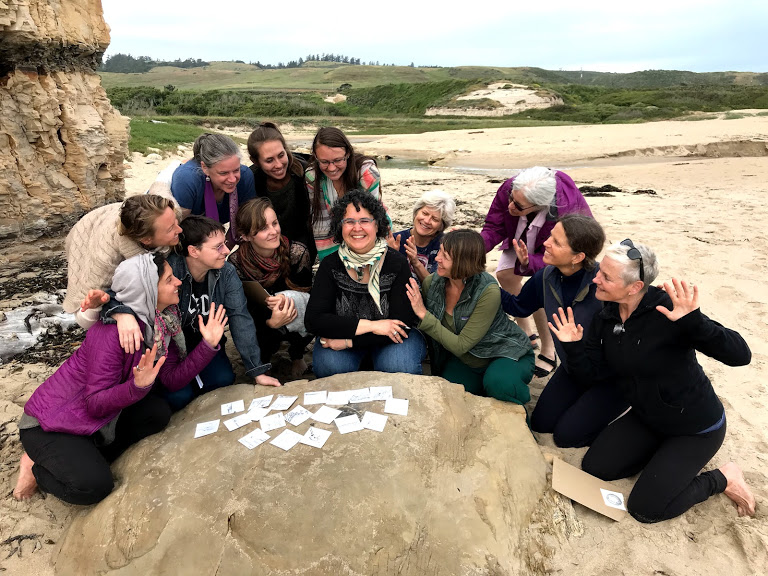 "This program has true holistic integrity. The teachings, the teachers, the venue and even the food were all in alignment with healthy eco-consciousness. There was a fabulous balance of practical and sacred approaches to ecotherapy both from a personal and clinical perspective. The curriculum was applicable to those who are newly acquainted to the natural world and also to those who have an abiding devotion to ecotherapy. I highly recommend this program for individual and collective evolution as a practitioner and as a human on this planet, at this time."
~ Sarita Jessica Benn-Towle, AMFT
COST
Hold your place with a deposit of $197
Training cost: $997
Early Bird: $897 if deposit paid by May 30th
Payment plans available
Blue Ridge Retreat cost: $600
This includes housing, meals, and all facility use
(Save $100 if you camp at Seven Oaks)
Hawaii Retreat cost: $500
This includes housing, meals, and all facility use
Commuter price: $250
This includes meals and facility use
SCHOLARSHIPS
Three partial scholarships
are available on first-come, first-served basis:
Equity Scholarship
for those who identify as people of color, LGBTQ and historically marginalized populations
Work-study positions
for those who need a financial discount for the training
Please note this program has space for only 14 participants.
Join us for a transformational journey to connect with the wisdom of the land.
What participants say:
"This experience surrounded me in love and power…It boosted my confidence and expanded my knowledge to effectively use ecotherapy in my work."
                                       ~ Cecelia Futch, LPCC 
"A transformative gift of inspiration, courage, vulnerability, authenticity, and vital connection…."
                                       ~ Paula Pappajohn, MA, RCC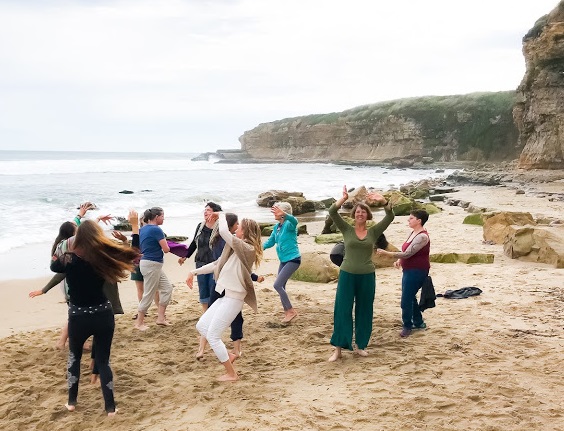 "Ariana's Immersion course was one of the most precious experiences of my life. It awakened my deep love …and joyful inner relationship with Nature. It strengthened my commitment to advocate for the Earth and healed much of my pain, guilt and shame for the harm being done. It inspired me to keep feeling and make choices to protect and heal the Earth."  
                                       ~ D. C., LMFT
Sevenoaks Retreat Center
At Sevenoaks, majestic 300-year-old oaks grow nestled within the forested slopes of the ancient Blue Ridge Mountains. Some 350 million years old, these grand mountains, which are often veiled in wisps of fog, are ethereal and mysterious, holding wisdom and depth. Within its sanctuary of dogwoods, azaleas, orchids and mountain bogs is a wonderfully rich and interconnected ecosystem that supports a great diversity of animals, from salamanders and wild trout to otters and black bears. (Two hours from Washington D.C. Dulles airport.)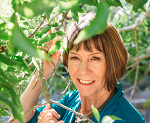 Ariana Candell, LMFT, R-DMT, Ecotherapist, is a licensed psychotherapist with 20-plus years experience and a pioneer in the emerging field of Somatic Ecotherapy. For the last decade, she has been an active leader in transforming the field of psychotherapy to include connecting to the natural world as an essential part of healing.
Ariana is founder of The Earthbody Institute, a professional, educational, and transformational forum dedicated to the cultivation of dynamic mutual relationships with the natural world. She is creator of the groundbreaking Professional Ecotherapy Training and Certification Program, now entering its fourth year. She facilitates workshops locally and internationally, including Online Ecotherapy Certificate Programs, Ecotherapy Immersion Programs and consultation groups. She also teaches Ecotherapy seminars as an adjunct professor at John F. Kennedy University.
Ariana believes that developing a consistent nature connection practice with elements of somatic awareness and openness to the sacred can foster a more holistic and balanced way of life. She is devoted to her own daily spiritual practice in nature, and encourages her private clients and students to develop their own practice. In all of her programs, she facilitates creation of a strong Earth-honored community, fulfilling an ancient human need of experiencing a profound connection to the sacredness of all beings.
Ariana is thrilled to be practicing Ecotherapy outdoors in the East Bay hills with more than half of her individual clients, and also brings the power of nature indoors to her private practice in Berkeley. Her main therapeutic influences include Hakomi Mindfulness-Centered Somatic Psychotherapy, Somatic Ecotherapy, Dance Movement Therapy and Earth-based trainings from The School of Lost Borders.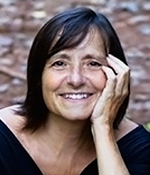 Beverly Ingram BA, MA level ESL, Ecotherapist is the founder of Go into Nature, LLC., bringing outdoor Ecotherapy programs to adults and children. She has trained in a variety of mind-body centered healing practices including: Mindfulness Based Stress Reduction, Vagus nerve regulation, Coyote Mentoring, and a decade of 5Rhythms and conscious dance practices. She received her Ecotherapy Certification from The Earthbody Institute in 2017.
Beverly comes with a background in International Business and teaching ESL to refugees and immigrants. Her Ecotherapy offerings include: workshops for refugees, "Women in the Wild", forest programs for children in public schools, and individual adult sessions.
Beverly has been deeply connected to the earth throughout her life. One of the most transformative and creative periods of her life came through living solo in the wilderness for several months, propelling her towards her desire to share this work with others.
She believes that the core of nature connection is committing time and intention to the earth to develop a deep and supportive relationship, and that the deepening of this personal connection will naturally influence our care of the earth, like ripples in a pond.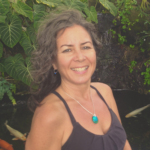 Lizabeth Kashinsky, BA, MA has worked in the field of conservation in Hawaiʻi since 1994 and is passionate about protecting rare and endangered Hawaiian plants, animals, and ecosystems. Her experiences living fully immersed in nature while conducting research on endangered Hawaiian monk seals in the remote Northwestern Hawaiian Islands was life changing. Inspired by her transformative experiences connecting deeply to nature there, she completed a masterʻs degree in Ecopsychology from Naropa University in 2012. She also holds a Level 1 Ecotherapy Certification with the Earthbody Institute, a Certificate in Ecopsychology from Pacifica Graduate Institute, and was trained by Joanna Macy to facilitate The Work That Reconnects.
Lizabeth is the founder of Nature Connects to connect individuals to self, each other, and the non-human world. She offers ecopsychology based retreats, workshops, and classes, and offers support to individuals going through transitions or grief, including grief over the loss of the natural world.
Lizabeth has also been practicing yoga and mindfulness meditation since 2001 and teaching yoga since 2009. She often incorporates nature awareness and mindfulness practices in her classes. She has recently merged her love for horses and healing practices of yoga to lead healing horse meditation circles and yoga on horseback to create the space for deeper connection between humans and these magnificent animals.
Lizabeth serves on the board of Radical Joy For Hard Times, a non-profit organization that offers opportunities for people to deeply connect with wounded places. She also serves on the board of Kure Atoll Conservancy, a 501c3 non-profit foundation dedicated to supporting habitat restoration and wildlife management programs at Kure Atoll in the Northwestern Hawaiian Archipelago, one of her favorite places on Earth. Lizabeth currently resides in Honolulu with her dog and 2 elderly cats.