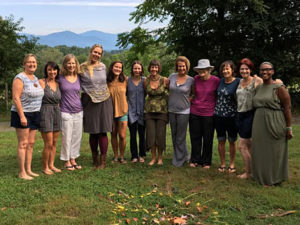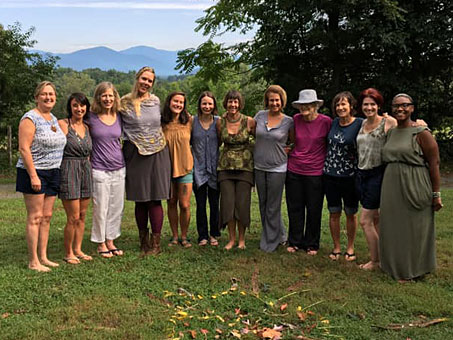 This training will be re-scheduled as Covid permits.
We are thrilled to announce the NEW Level 3 Certification Program! If you have finished the Level 1 & 2 programs, you can now complete your Certification level. 
Personal and Professional Benefits of the Training:  
Develop your sacred connection to the land and live and lead from this center

Develop powerful, practical skills to bring directly into your work and community

Belong to a strong peer cohort for ongoing inspiration, professional support and developing your leadership skills in these times of deep change.  

Practice being an active partner in co-creating a life-sustaining, Earth-honoring culture in your community.

Know how to address growing-edge topics such as: decolonizing Ecopsychology, climate trauma, and working with marginalized populations. 

Understand and practice constructive approaches to addressing cultural, political and environmental crises through activism-inspired Ecotherapy. 

Learn current approaches for dealing with specific client issues: addiction recovery, trauma, and working with multiple diagnoses.
THE PROGRAM INCLUDES
Five-day, land-based training.
12 NEW training webinars (both live and recorded)

with experts in the field, May-July.

NEW Course materials in a professional online training format

with current Ecotherapy articles, step-by-step handouts and assignments for integration of skills.

Six live 90-minute online group gatherings

for dynamic learning. 

One 60-minute experiential Ecotherapy sessions with Ariana

or two 30-minute individual consultations with Ariana or Kai. 

Practice with peer feedback and consultation

for individual sessions and group offerings. 

Guidance to grow your Ecotherapy business

with training, consultation and group mastermind time.

Support for being an active partner in local, community-based initiatives to create a more life-sustaining society.

NEW Live and Recorded Interviews with Experts in the Field:
Considerations for Working Outdoors with Marginalized Populations
Healing Trauma through Ecotherapy
Ecotherapy and Addiction Recovery
Eco Art Therapy to Help Children Regulate and Heal
Somatic Ecotherapy Practices 
Clinical Group Ecotherapy with Multiple Diagnoses and Diverse Populations
Documented scientific benefits of nature connection from a physiological, cognitive, emotional, sociological and spiritual perspective
Listening to Indigenous Perspectives on Ecotherapy Practice
Creating Life-sustaining, Earth-honoring Structures in your Community
Integrating the Art of Council into Diverse Settings
Creating Sacred Wilderness Ceremony for Personal and Social Transformation
Understanding Systemic Denial and Working with Climate Trauma
Decolonizing Ecopsychology
Horticulture Therapy as a Resource for Healing
This Program is designed for:
Licensed therapists, interns and counseling students, coaches, educators, wellness practitioners, activists and more.  
The Earthbody Institute welcomes all humans of any gender identity, culture, race, religion and sexual orientation.
INVESTMENT
Hold your place: $197 (non-refundable deposit)
Training cost for Level 3: $2194
$1694 training cost (for online training and Five-day Immersion) and $600 Sevenoaks indoor lodging and food
(If you camp at Sevenoaks you will receive a $100 refund at the training.)
PAYMENT PLANS AVAILABLE: 7 regular monthly payments
PARTIAL SCHOLARSHIPS
Two partial scholarships available on first-come, first-served basis:
Equity scholarships for those who identify as people of color, LGBTQ and historically marginalized populations
Work-study positions for those who need a financial discount for the training
Fill out the form HERE if you would like to apply for a partial scholarship or work-study position
What participants are saying: 
"Ariana and Kai are two incredible women who have passion and drive for what they do. From calming your soul with connection to the natural world, moving without judgement, or simply reflecting and pondering on experiences, this training is an incredible opportunity to personally experience how to be successful in Ecotherapy…It gave me a better understanding and tools to help support not only my own nature practices, but also those I work with.

The knowledge, education, friendships, and love that you will feel during this experience, is incredible AND it is a judgement free space…This training is an A+! I can not wait for more opportunities to work with these outstanding woman."
-Jamie Carrier, Certified Health Coach