Women's Professional Ecotherapy Training
and Certification Program
Embody your Feminine Leadership and
Transform your Life with the Healing Powers of Nature!
Professional Ecotherapy Training
and Certification Program
Embody your Feminine Leadership and Transform your Life with the Healing Powers of Nature!
March – May 2018
Three  Weekend Trainings
in Northern California
Joining together in a circle of Earth-honoring women, we will rebuild trust in our wild inner nature, catalyze our life force for positive action and discover potent ancient and modern ways to heal our communities and clients.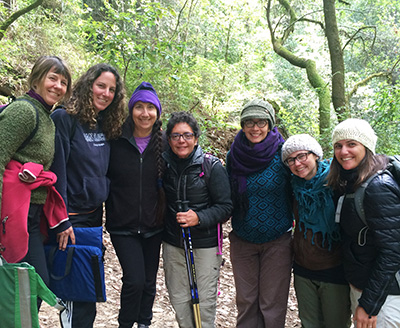 March 1 – 4
Salamander Camp Retreat Center, Santa Cruz
April 12 – 15
River's Bend Retreat Center, Mendocino
May 17 – 20
Big Basin Redwoods State Park, Big Basin
Now is the time to include nature-honoring principles in our healing work!
Women have great potential to transform ourselves and the world around us, but we can get stressed, isolated and disconnected from our inner power and deeper purpose. There are many reasons we may not show up in our lives as the powerful, phenomenal woman that we truly are. Most of us have been judged, taken advantage of, or hurt by others who don't respect our boundaries. This can lead us to hide our power, shut down our expansive energy and feel hesitant to speak out. As women, we are taught to put others' feelings and needs ahead of our own, and often have trouble setting self-preserving boundaries for ourselves. We also may not have strong female role models or mentors in our lives to help guide us.
But it doesn't have to be like this.
We can join with other women in a safe, supportive community, gain strength and reclaim our voices. We can empower each other to take courageous steps to change our lives and our communities, and to inspire and help others to transform.
When we learn how to open ourselves to the profound wisdom and healing of the natural world, we can amplify our transformation
and express the full depth and power of our feminine essence. We feel the primal forces of creation and how we are an essential part of them. We regain our innate connection to the land and to each other and align with ourselves and the planet. When we know how to honor and tend our deep connection to the natural world, it relieves daily stress and gives us an oasis of peace and inspiration. It brings us intuition, vision, creativity, relaxation and many other essential qualities of a balanced and meaningful life.
Ariana Candell, LMFT, R-DMT, Ecotherapist
Reclaim your power and live from your inner Wild Woman through sacred, embodied nature practices:
Cultivate your Wild Woman wisdom and infuse your life with her creative energy.
Develop your leadership tools for supporting other women on this path.
Feel your expansive, expressive energy received and celebrated.
Learn how to set the boundaries you want and have them respected.
Enjoy greater peace and balance in your work and relationships through nature-based self-care practices.
Reconnect to your body in positive ways through mindfulness, movement and dance.
Experience the powerful support of a feminine, Earth-honoring community.
Enhance your personal integrity by promoting respectful and sustainable relationships between humans and the natural world.
Enliven and expand your professional and healing work with innovative nature interventions for various populations and issues.
Develop powerful, practical skills to bring directly into your work and community:
Learn numerous Ecotherapy skills developed from Somatics, Dance/Movement Therapy, Hakomi Mindfulness-Based Psychotherapy, Expressive Arts and Joanna Macy's "The Work that Reconnects."

Experience and learn how to lead nature-based interventions for reducing stress, resourcing, regulating and grounding.

Understand the clinical, legal and ethical guidelines to assess and prepare yourself and your clients for outdoor Ecotherapy.

Learn effective indoor Ecotherapy interventions and get tips to transition clients to outdoor settings with confidence and ease.

Integrate the seven steps of outdoor Ecotherapy into individual ecotherapy sessions.

Master the essential elements for developing and leading successful nature-inspired workshops and create your own unique offerings.

Understand and integrate tools to address our cultural, political and environmental crises through activism-inspired Ecotherapy.
This Program is designed for:
Licensed clinicians, interns and counseling students, wellness practitioners, coaches, ministers, teachers, healers, and more.
The Earthbody Institute welcomes all humans of any gender identity, culture, race, religion, sexual orientation and economic circumstance. However, this 2018 Professional Ecotherapy Training is open to anyone who identifies as a woman. Contact us if you have questions about whether this is a fit for you.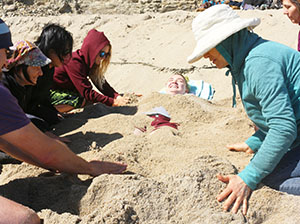 "Within every woman there lives a powerful force, filled with good instincts, passionate creativity, and ageless knowing. She is the Wild Woman, who represents the instinctual nature of women. But she is an endangered species. For though the gifts of wildish nature belong to us at birth, society's attempt to 'civilize' us into rigid roles has muffled the deep, life-giving messages of our own souls."
~ Clarissa Pinkola Estes
What participants say:
"Ariana holds space by offering such a perfect balance of acceptance and guidance. She does a beautiful job of reflecting the strengths of the participants back to them so that they come to know their own abilities.
This training was a full and satisfying experience for both the heart and the head. Ariana has an impeccable sense of timing when it comes to program planning, and helping trainees plan their own workshop agendas. She is adaptable and strong in all the best ways and was extremely helpful in holding a vision of excellence for me that encouraged me to take action to build my own Ecotherapy practice. She showed me some key ways to make little changes to my own programs that have made a big difference."
~ Katie Baptist, LCSW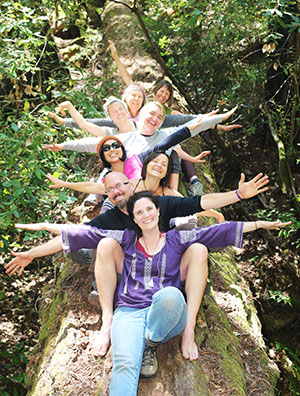 "If you want to deepen your connection to nature in a practical, spiritual and emotional way,
If you want to learn exercises to heal others and heal the earth,
If you want a teacher who is open, supportive, connected and fun,
If you want to learn about nature therapy while growing with other excited nature lovers, this course is for you.
If you want to retreat to natural oasis' while learning intensively,
If you want to feel more connection to your life mission, this course is for you.
If you want to gain confidence in your abilities and learn how to process your fears,
If you want to enjoy the company of redwoods and Northern California's magnificent, unique beauty,
If you want a soulful learning experience, this course is definitely for you."
~Jocelyn Rose Everett, Nature-inspired songstress
Immerse yourself in profound somatic, spiritual and expressive arts experiences
Our Ecotherapy program is the only professional training in the area with a woman-centered perspective. We are also unique in blending Dance Movement Therapy with Somatic Psychotherapy, Expressive Arts and Social Activism.
Our training style:
Academic learning through webinars, articles and handouts, experiential exercises, clinical and therapeutic discussion, hands-on practice, consultation and peer support, as well as supporting the development of personal nature connection, networking and rejuvenation.
NEW Special Bonus Booklet:
20 Favorite Ecotherapy Interventions make it easy to take home what you've learned and put it directly into practice for you and your clients.
This program is a great fit for you if:
You want to deeply nourish yourself and receive the support of a nurturing and strong community of women.
You are ready for a deep dive into the power of the feminine and nature.
You long to develop a more positive relationship with your body and inhabit and express it more fully.
You are ready to learn and integrate new ways of being into your life and share your learning with your clients or community.
You are a healer, teacher, therapist, coach, mother or grandmother, who wants to become even more of who you are and share your strength and light with the world.
You want to learn practical nature-based tools to enrich your work with your clients and to bring them into closer connection with nature for deeper healing.
You'll develop the three important foundations of Ecotherapy:
An engaged, reciprocal personal relationship with nature
This gives you power and effectiveness as an Ecotherapist as your interventions come from a direct relationship with the natural world, as well as attunement to the client's process.
Commitment to a sacred, Earth-centered community
This increases personal transformation and cultivates conviction to practice healing and living from a place of courageous interconnection with the Earth.
Development of clinically effective Ecotherapy skills
You will integrate powerful healing modalities from evidence-based approaches, indigenous tradition and psychotherapy with practice, feedback and consultation.
THE PROGRAM INCLUDES
Three 3-day weekend immersion trainings in Northern California
14 training webinars with experts in the field including: Linda Buzzell, Craig Chalquist,and Martin Jordan
Course materials in a professional online training format with articles, handouts and
assignments that encourage dynamic class interaction
Four live online 90-minute group gatherings for learning and integration
Four 30-minute individual consultations, or two 60-minute experiential Ecotherapy
sessions with Ariana
The opportunity to practice individual Ecotherapy sessions with your cohort and
present an hour-long workshop in a co-created public workshop day
Training, guidance and group mastermind time to grow your Ecotherapy business
with clients and groups with training, guidance and group mastermind time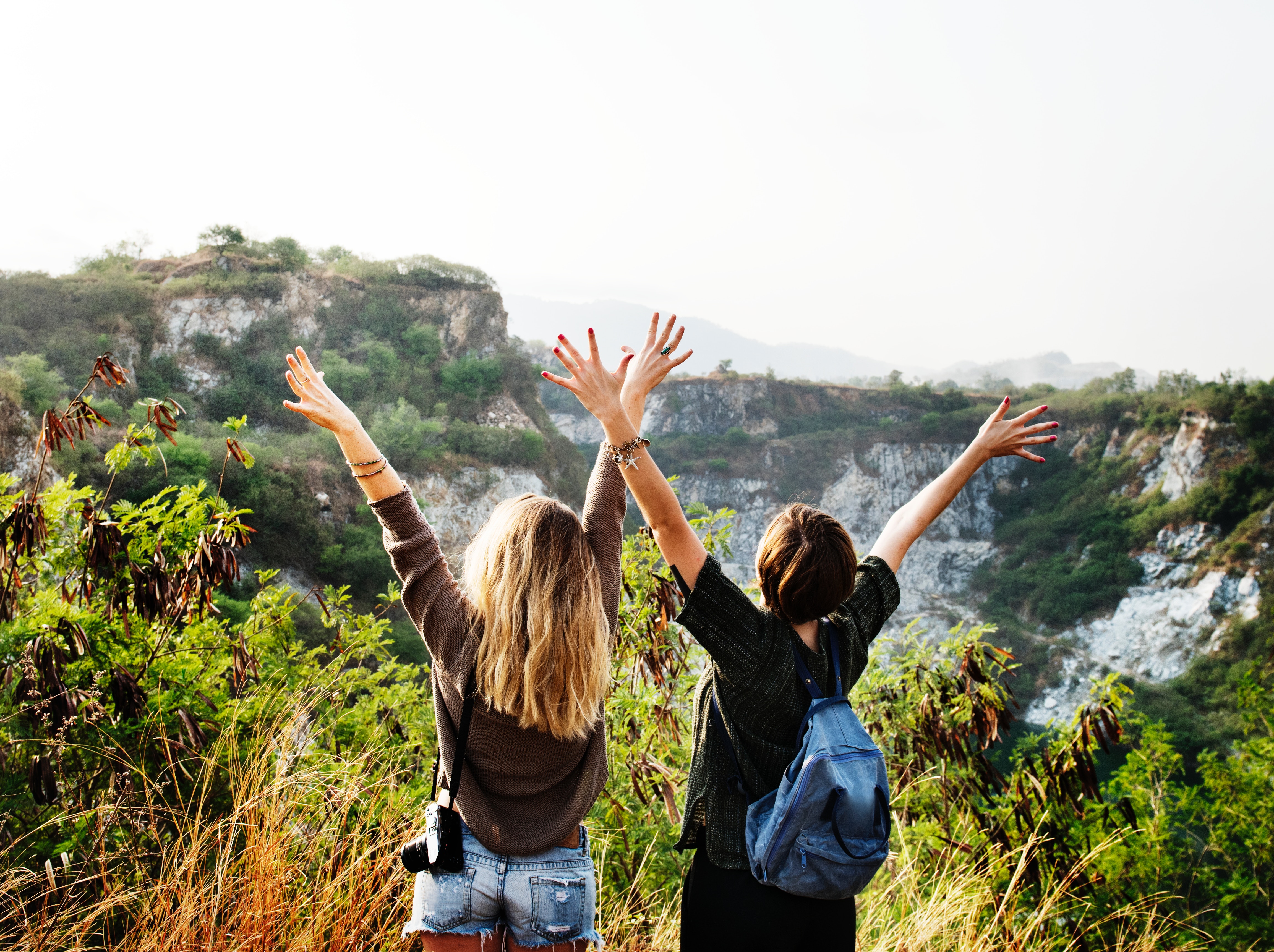 Ecotherapy Certification
You will receive an Ecotherapy Certification for completion of this training program.
100 CE's Available
This course meets the qualifications for 100 hours of continuing education credit for LCSWs, LMFTs, LPCs, LPCPs, and LMHCs through Commonwealth Educational Seminars. **If you need CE's for a different profession, please check with The Earthbody Institute.
Licensure hours
MFTI's and other interns may count hours towards licensure.
What participants say:
"I have been so moved by this course. I love the experiential style of teaching, which has allowed me to fully understand how incredibly powerful this work can be. I now feel instilled with a sense of confidence, useful Ecotherapy skills and the ability to heal others with nature's assistance. I also feel more connected to my own nature practice, which has been dormant for quite some time."
~ Miranda Emanuel, MFTI Registered Intern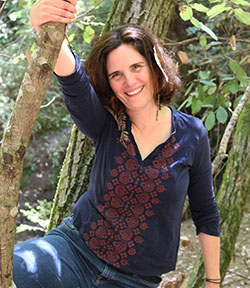 "The opportunity to be immersed in nature, guided by a skillful leader and inspired by the many gifts of nature is priceless. The rhythm and flow of this work allows for deep and profound inner healing, collective healing and subsequently the healing of our planet which is so very critical at this point in time. Thank you Ariana for being willing to offer this incredible program which is available to nature lovers and healers."
~ C. Blake
COST
Hold your place: $197
This is a non-refundable deposit
Training cost: 
Interns/low income $2,497
Licensed professionals: $2,797
$200 Discount if deposit paid by February 9th
PAYMENT PLANS AVAILABLE.
Lodging fees: $350 in total
Sign up now!
Only five spots available…
PARTIAL SCHOLARSHIPS
Equity Scholarship
for those who identify as people of color, LGBTQ, and historically marginalized populations
Work-study positions
for those who need a financial discount for the training
REFUND
Participants may withdraw from the training program within seven days after the first online gathering and receive 70% refund of the tuition.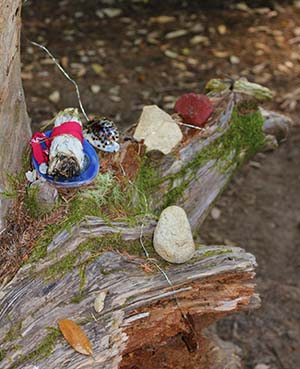 Join us courageous women with the powers of nature all around us. To dance! To stomp! To speak! Our One Voice! Retelling. Reweaving. Recreating. Our One Body. Our inviolate Self!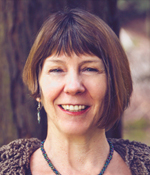 Ariana Candell, LMFT, R-DMT, Ecotherapist, is a licensed psychotherapist with 20-plus years experience and a pioneer in the emerging field of Somatic Ecotherapy. For the last decade, she has been an active leader in transforming the field of psychotherapy to include connecting to the natural world as an essential part of healing.
Ariana is founder of The Earthbody Institute, a professional, educational, and transformational forum dedicated to the cultivation of dynamic mutual relationships with the natural world. She is creator of the groundbreaking Professional Ecotherapy Training and Certification Program, now entering its fourth year. She facilitates workshops locally and internationally, including Online Ecotherapy Certificate Programs, Ecotherapy Immersion Programs and consultation groups. She also teaches Ecotherapy seminars as an adjunct professor at John F. Kennedy University.
Ariana believes that developing a consistent nature connection practice with elements of somatic awareness and openness to the sacred can foster a more holistic and balanced way of life. She is devoted to her own daily spiritual practice in nature, and encourages her private clients and students to develop their own practice. In all of her programs, she facilitates creation of a strong Earth-honored community, fulfilling an ancient human need of experiencing a profound connection to the sacredness of all beings.
Ariana is thrilled to be practicing Ecotherapy outdoors in the East Bay hills with more than half of her individual clients, and also brings the power of nature indoors to her private practice in Berkeley. Her main therapeutic influences include Hakomi Mindfulness-Centered Somatic Psychotherapy, Somatic Ecotherapy, Dance Movement Therapy and Earth-based trainings from The School of Lost Borders.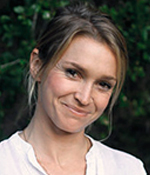 Miranda Emanuel, MA, MFTi (IMF90905) obtained her Master's degree in Holistic Counseling Psychology from John F. Kennedy University in 2015. Miranda is certified as an Ecotherapist through The Earthbody Institute and is also a Certified Yoga Teacher (RYT200). In her therapy practice, she utilizes a mindfulness-based, holistic approach to therapy, which engages the mind, body, spirit and connection to the natural world.
Miranda's primary clinical work is with survivors of sexual assault and domestic violence through Monarch Services in Santa Cruz, California. She is passionate about female empowerment and helping women regain their strength after trauma. For her self-care practices, she enjoys partaking in aerial arts, surfing, hiking, backpacking and spending quality time with her partner and friends. Contact Miranda at: miranda@shinealightcounseling.com
"Nature is such a wonderful teacher and empowerment agent for women… because we are inherently connected to the natural world. The natural world is calm, gentle, nurturing much of the time, but it is also wild, destructive, stormy, fiery… the duality is so feminine to me."
~ Miranda Emanuel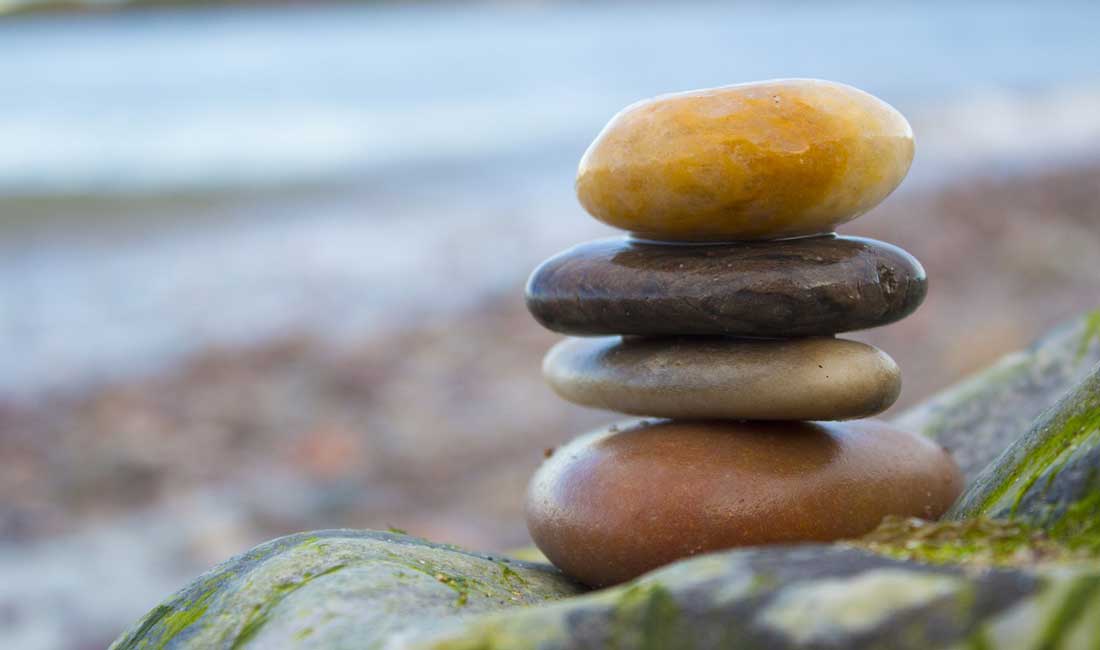 Continuing Education credit for this program is awarded by
Commonwealth Educational Seminars (CES) for the following professions:
Social Workers: CES, provider #1117, is approved as a Provider for Social Work Continuing Education by the Association of Social Work Boards (ASWB) www.aswb.org, through the Approved Continuing Education (ACE) program. CES maintains responsibility for the program. ASWB Approval Period: 10/5/15 through 10/5/18. Social Workers should contact their regulatory board to determine course approval. Social Workers participating in this course will receive 34.0 clinical continuing education clock hours.
Licensed Clinical Professional Counselors/Licensed Mental Health Counselors: Commonwealth Educational Seminars (CES) is entitled to grant continuing education credit for LCPCs/LMHCs in the following states: AZ, AR, CA, CO, CT, DE, DC, FL, GA, HI, ID, IL, IN, IA, KS, KY, ME, MA, MO, NE, NH, NJ, NM, NC, OR, PA, RI, SC, SD, TN, TX, UT, VT, VA, WA, WI, WY. CES maintains responsibility for this program. LCPCs/LMHCs completing the program will receive 34.0 continuing education hours of credit.
Marriage and Family Therapists: Continuing education credit for Marriage & Family Therapists is awarded in the following states: AL, AR, AZ, CA, CO, CT, DC, DE, FL, GA, HI,ID, IN, IA, KS, ME, MD, MO, MT, NE, NH, NJ, NM, NC, OR, PA, RI, SC, SD, TN, TX, UT,
VT, VA, WA, WI, WY. CES maintains responsibility for this program. Marriage and Family therapists completing this program will receive 19.0 CE hours of credit.